The Rawlings is the perfect setting for your Nashville wedding, reception, rehearsal dinner, or bridal shower. Whether you choose the Colonial elegance of the George Washington Room, the relaxed and open atmosphere of the Patio Terrace Room or one of our outdoor locations, you can rest assured that your special day will be perfect in every detail.
Your wedding is a special occasion that deserves a lasting impression in a remarkable setting. But at The Rawlings, unforgettable indoor or outdoor ceremonies are only the beginning. We take care of all the details so that you can focus on what's important—sharing this happy day with your family and friends. No matter how simple or extravagant, you will find that our service will exceed your expectations. Everything from the flower arrangements to the award-winning wedding cakes will be to your specifications.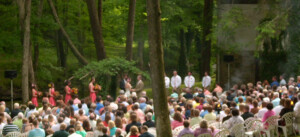 To accommodate your wedding, we have beautiful outdoor grounds and 12,000 square feet of dining rooms decorated with antiques, silver, crystal, and wood-burning fireplaces.
Our 200-acre estate stretches for a mile along Big Marrowbone Creek and Marrowbone Lake. And our on-site, full service catering service specializes in wedding cakes, gourmet foods, international cuisine and regional cooking, and emphasizes hospitality and personalized service.
The George Washington Room
The George Washington, a formal dining with a large wood-burning fireplace, can seat 60 guests for a formal dinner and 110 guests for a wedding ceremony. This stately room contains the late Capt. Joe Rawlings' memorabilia collection dedicated to our nation's first President.
The Patio Terrace Room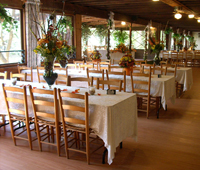 The Spacious Patio Terrace Room, overlooking Marrowbone Creek and The Park, is built with 150 year old heavy timbers. It's style and atmosphere remind you of being at a ski lodge or resort in Colorado or Switzerland. It is fully-furnished with handmade antiques and family heirlooms.

Indoor and Outdoor Wedding Slideshow